The Clearwater is a two-chamber hearing aid keeper designed to store in-the-ear hearing aids. The case is made of military-grade bar stock aluminum. The fully-padded chambers seal securely with a rubber O-ring and are color-coded to easily distinguish between the left (blue) and right (red) hearing aid.
The Clearwater fits easily pocket or will hang from its included lanyard from a backpack or belt loop. Each chamber stores up to three spare batteries and measures 1.07" deep and .871" wide. The over-all size of the Clearwater is about the diameter of a quarter and shorter than most writing pens.
Please note: when sealed securely, the Clearwater is water resistant; however, does not float.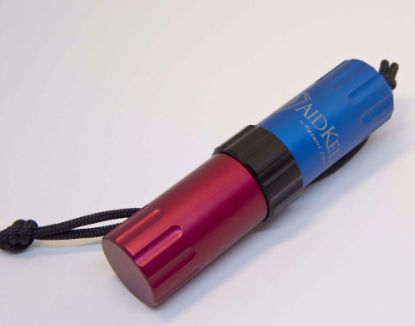 This Product is made for two In-The-Ear hearing aids. It's color coded to indicate left and right chambers.